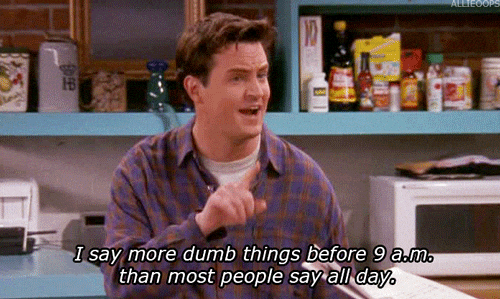 It's 8 a.m. and I've already embarrassed myself, so I'm right on track for a Wednesday.
Emerson begged for Chick-fil-A for breakfast and I caved pretty quickly because she almost never wants breakfast of any kind. We're at the counter and she finishes ordering.
"Anything for you, ma'am?" the employee asks.
Narrator: What she meant to say was "I'm good, thank you." Or maybe "Thanks, but I'm good." But that is not what came out of her pie hole.
I respond, brightly: "Oh, that's good. I'm thank you."
I'm what? Oh, good god. I stammer for a moment and then just walk away. I wait for Emerson by the condiment station because condiments don't talk, so I don't have to respond. Also, I may have had a stroke.
Emerson gets her drink and walks over to pick up some honey. She sees me and immediately starts giggling. I laugh, too.
"I'm thank you!" I laugh.
"You are," she grins.
Ugh. I'm really not at my best on any day of the week that ends in "day."